Promote ASNR
HELP SPREAD THE WORD ABOUT ASNR
Please find promotional materials here, including the official ASNR banner, presentation slides, brochures, Membership application, flyers and other material to promote ASNR within your network. Invite your peers to join you in Chicago, Illinois for the 2019 ASNR Annual Meeting!
Graphics:

ASNR Annual Meeting Banner 728*90:


Annual Meeting 300*250: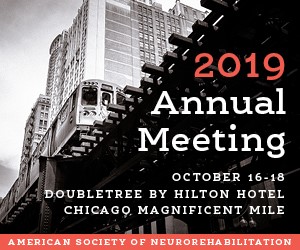 Signature:




ASNR Promotional Materials
Bring them with you to other appropriate meetings to promote our Society.
If you would rather utilize hard copies of any of the above materials, please request them from the ASNR Executive office and we would be happy to mail them to you.

POWER POINT SLIDE
Please add this PowerPoint slide to the end of your presentations and show on screens at events between presentations.
TEXT TO FORWARD
Please copy and paste this short description of the 2019 ASNR Annual Meeting to include in your newsletter, website and event calendar:
2019 ASNR Annual Meeting
www.asnr.com
October 16-18, 2019, in Chicago, Illinois
Early Registration Deadline: October 1, 2018
The American Society of Neurorehabilitation (ASNR) is excited to be bringing our 2018 Annual Meeting to Society for Neuroscience (SfN) as a two day satellite meeting. This two day meeting is focused on advances in the basic and clinical science of neurorehabilitation, providing opportunities to share knowledge, experience, and developments in the field. The meeting has a mix of basic scientists, clinicians, rehabilitation leaders and trainees. Diverse programs include a mentoring breakfast for trainees and senior faculty, poster awards, travel scholarships and debates around emerging neurorehabilitation topics. A vibrant meeting is structured into the important themes, the mix of trainee, senior and junior faculty presentations and through direct and electronic interaction forums in the sessions.
Albert Lo, MD, PhD: President, American Society for Neurorehabilitation
Lewis Wheaton, PhD: Program Chair, ASNR 2019 Annual Meeting