Webinars
The ASNR Education Committee is pleased to offer the career development webinar series! These educational offerings are FREE for everyone!. However, we always welcome new members with open arms. Click here to learn about the value and savings one receives when becoming a member!
UPCOMING WEBINAR
The next Career Development webinar will be Time Management: Own Your Time on December 14th, 2021 at 12pm CT.
Registration is now open!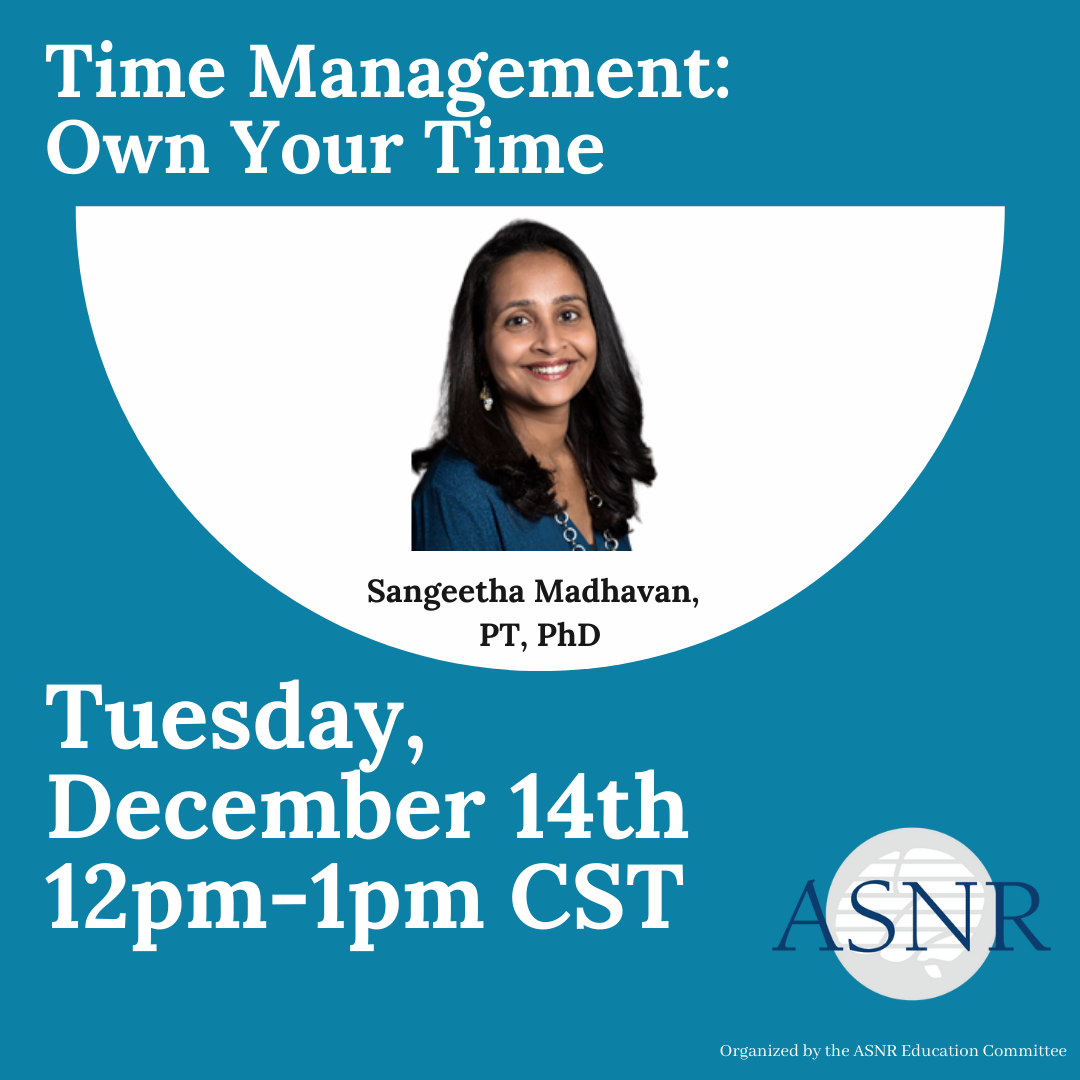 Description: Do you feel overwhelmed with the unstructured nature and demands of academia? Creating course curricula and lectures, mentoring students, writing papers and grants, collecting and analyzing data, attending conferences, serving on committees, doing clinical work, and of course endless Zoom meetings -- where does that leave time for personal priorities?

Effective time management is critical for a productive academic career and a healthier work-life balance. In this webinar, Dr. Madhavan will discuss best practices and strategies for successfully balancing academic goals with personal pursuits. This seminar is tailored for graduate students, post-doctoral fellows, and junior faculty.

Date: December 14, 2021
Time: 12:00pm CT
Platform: Zoom
Cost: FREE for all

---


PREVIOUS WEBINARS

Recordings (Members only access)

Grant Review Process: Behind the Scenes
In this roundtable discussion, Dr.'s Ryan Roemmich, Preeti Raghavan, and Trisha Kesar will discuss their experiences serving as grant reviewers for various funding agencies. They will provide insight into the overall process of gran review, their approach to reviewing, and common strengths and weakness in neurorehabilitation proposals.

Building Your Academic Curriculum Vitae Step by Step
In this educational webinar, Dr. Perez will discuss important areas of focus to build your academic curriculum vitae (CV). Discussion will include the steps that can be taken from graduate student to faculty, tips on how to start building a strong CV at an early stages of your career, and the composition and format of promotion CV templates from different universities. Finally, Dr. Perez will share her own path to becoming an independent investigator in the field of Neurorehabilitation.

Presented by: Monica Perez, PT, PhD
Moderated by Ahlam Salameh, PhD

Finding the Faculty Position
In this webinar, Dr. Wade focused his talk on finding (and in some cases, changing) you faculty position. The topic included:
1. The documents needed for *almost* every application
2. How to find open positions
3. How the search committee prioritizes and reads your application

Presented by: Eric Wade, PhD
Moderated by: Heidi Schambra, MD


Everything You Always Wanted to Know About Clinical Trials But Were Too Afraid To Ask
In this webinar, Dr. Winstein discussed the importance of putting the research question before the clinical trial. Dr. Winstein identified the key components of the NIH definition of a clinical trial, the many different flavors of clinical trials and the importance of selecting the appropriate funding opportunity announcement (FOA).

Finally, Dr. Winstein shared the natural progression of clinical trials from phase 1 to phase 3, how these phases differ from one another for recovery/rehab interventions and how best to align your research career with these phases.

Presented by: Carolee Winstein, PhD, PT, FAPTA, FAHA, FASNR
Moderated by: Keith Lohse, PhD, Pstat


How to Give a Good Talk & Why it Matters
In this webinar Dr. Cha shared why success in science depends on oral presentations, whether presenting at international conferences or applying for a position.

In science, individuals are judged by the quality of their presentations. Too often, presenters make avoidable errors. Dr. Cha reviewed some practical tips for delivering effective presentations.

Presented by: Jang-Ho Cha, MD, PhD
Moderated by: Diane Adamo, PhD


Tips for Establishing & Maintaining a Successful Laboratory
In this webinar Dr. Corbett shared tips and lessons learned during his many years of running a productive basic science laboratory distributed over 3 different academic institutions, including a 10-year stint as the Scientific Director of a national (Canadian) Stroke Recovery Research Network.

Much of the information applied equally well to both clinical and basic research. Discussion topics included: how to select and manage laboratory staff and trainees, how to create a productive, stimulating and enjoyable lab environment, how to get the most out of lab meetings, dealing with problematic personnel, and managing time wisely.

Presented by: Dale Corbett, PhD
Moderated by: Noam Harel, MD, PhD


Navigating Collaborations
In this webinar, Dr. S. Thomas Carmichael discussed how collaborations extend our research programs and bring interesting personal and scientific interactions. He also discussed how they can drain our time and distract our focus. How should we evaluate collaborations as we start our research programs? What do collaborations give us, and where do they fit into our career track?

Presented by: S. Thomas Carmichael, MD, PhD
Moderated by: Steven Zeiler, MD, PhD


Finding your place in the start-up universe: Making the transition from academia to industry
Dr. Herman discussed his experience moving from academia to industry, and how to understand the similarities and differences between life and work as an academic versus in startup/tech industry. He also discussed what potential managers/companies are looking for, and different industry career options for academically-trained scientists.

Presented by: Dave Herman, PhD
Moderated by: Sook-Lei Liew, PhD, OTR/L


Research in The Time of COVID-19: Strategies for Moving Things Forward
In this special webinar, members of the ASNR Education Committee shared creative approaches for maintaining research productivity even when the laboratory is closed. They gave tips for how to remotely collect and analyze clinical research data, how to access open-access clinical databases, how to structure meta-analyses of existing data, and how to generally keep up productivity with unstructured time.

Presented by: Heidi Schambra, MD; Ahlam Salameh, PhD; Sook-Lei Liew, PhD, OTR/L; Keith Lohse, PhD, Pstat
Moderated by: Heidi Schambra, MD


How to Get Published
How do you tell your story with clarity and impact? How do you choose the right journal? What makes reviewers happy, and what annoys them? This webinar will give you plenty of ideas and advice for preparing manuscripts, responding to reviewers' comments, being creative, and achieving mastery. Professor Cathy Stinear shared what she's learned from publishing over 100 articles, and reviewing over 1000, in neuroscience and rehabilitation.

Presented by: Cathy Stinear, PhD
Moderated by: Ahlam Salameh, PhD


Behind the Scenes at the Editor's Office: Understanding the Peer Review Process to Improve your Odds of Manuscript Acceptance
Dr. Nudo shared his advice on how to write a clear and concise paper that attracts the attention of journal editors and garners interest among your peers: this is an opportunity to understand what editors like—and what they do not!

Presented by: Randolph J. Nudo, PhD, Editor-in-Chief, Neurorehabilitation and Neural Repair
Moderated by: Heidi Schambra, MD


Grantsmanship: What the reviewers really think
Dr. Lang has reviewed hundreds of applications across a variety of funding mechanisms over the past decade or so. During this webinar, she provided general advice for how to get started planning and writing your application, as well as specific tips that will help avoid common application pitfalls.

Presented by: Catherine Lang, PT, PhD, FASNR
Moderated by: Heidi Schambra, MD


I am trying to do research, but they keep asking me to do other stuff!
Translational research was never easy, but the current environment is particularly challenging for clinician-scientists. In this webinar, Dr. Dromerick discussed strategies, tactics, and tricks to maximize time and energy for research so that clinicians can obtain the research career they want.

Presented by: Alex Dromerick, MD, FASNR
Moderated by: Albert Lo, MD, PhD