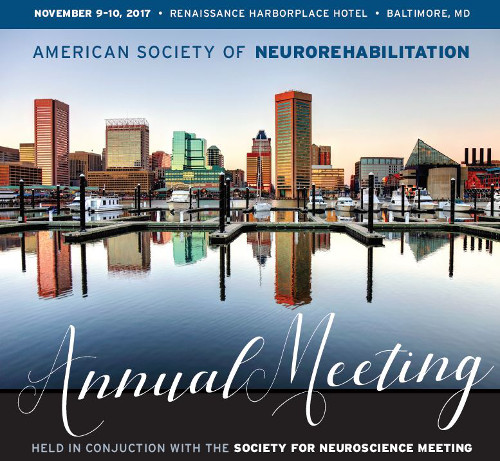 The American Society of Neurorehabilitation (ASNR) is excited to be bringing our 2017 Annual Meeting to SfN as a two day satellite meeting. This two day meeting is focused on advances in the basic and clinical science of neurorehabilitation, providing opportunities to share knowledge, experience, and developments in the field.
---
PROGRAM INFORMATION
Check back!
We will be posting more information as the program is developed.

---
Symposium Proposal Submission site is now OPEN
Deadline: April 10, 2017
The ASNR Annual Meeting Program Committee and the ASNR would like to invite you to submit a symposium proposal for the meeting. A symposium is a 90 minute slot of time. A symposium might consist of 4 speakers in the 90 minute slot that explore different aspects of a clinical or scientific issue in neurorehabilitation. A symposium might be a debate on two sides of a neurorehabilitation issue. A symposium could be a panel discussion of a Very Important Neurorehabilitation Concept. Any and all ideas are welcome but should be submissions on basic and clinical science of neurorehabilitation, neural repair and recovery in neurological disease.
Proposal requirements:
1. All Symposia organizers must be current ASNR members and any non-member speakers must receive prior approval from the Program Chair, Catherine Lang, PT, PhD. Requests for non-member speakers can be sent to ASNR Executive Director, Leslie Orvedahl. Please note: Member speakers are not eligible for any travel reimbursements.
2. All Symposium Organizers must complete a financial disclosure form.
Course Organizers will be notified of their acceptance status in May 2017.
---
ABSTRACT INFORMATION
Deadline: Monday, July 3, 2017

The Abstract submission site is now open!
SUBMIT AN ABSTRACT

---
REGISTRATION INFORMATION
Deadline: Monday, October 9, 2017
2017 Registration will open July 2017
If you aren't already an ASNR member, you can save money by becoming one and registering at the member rate. Applications are available online and will also be available onsite at the meeting.

ASNR Annual Meeting Registration Rates
Member: $300
Non-Member: $650

Student Member: $175
Student Non-Member: $200

Cancellation Policy:
ASNR will issue refunds, less a $25 administrative fee, upon receipt of written notice on or before October 1, 2017. No refunds will be made after the registration deadline or for no-shows to the meeting.
---
ASNR TRAVEL FELLOWSHIPS FOR DIVERSITY
ASNR is pleased to announce the availability of travel fellowships in the amount of $500 each for under-represented individuals interested in the field of neurorehabilitation. The fellowships are intended to offset the costs of traveling to the 2017 ASNR Annual Meeting in Baltimore, Maryland.
Applicants need not be ASNR members, but are limited to citizens or non-citizen nationals of the United States or to individuals who have been lawfully admitted for permanent residence in the United States (i.e., in possession of an Alien Registration Receipt Card or some other legal evidence of admission for permanent residence at the time of application).
Undergraduates and Graduate students are eligible for the fellowship. Awardees will be selected according to their academic background, experience, and research interests.
Submissions must be received by September 18, 2017.
---
MENTORING PROGRAM
ASNR is thrilled to hold a third annual, newly developed mentorship program for our members! The purpose of the mentorship program is to connect new members and/or junior scientists and physicians with senior professionals in the field of neurorehabilitation.
Mentors and mentees will meet face to face during the Annual Meeting. Mentors and mentees are encouraged to keep in contact with each other after the meeting if desired for a longer term mentorship.
About the ASNR Mentorship Program:
This program has been created to further meet the ASNR's mission and promote membership, education, communication, and support research and practice in neurorehabilitation.

It is designed for those who are interested in having an impact on another individual by providing insight, direction, motivation, support and education.

This initiative will pair individuals who wish to share their experience (mentors) with those that feel they would benefit from this shared experience (mentees) through common interests and goals.
Applications and additional information will be available in the summer of 2017.
---
HOTEL INFORMATION
Reservation Deadline: Wednesday, October 18,2017

Renaissance Baltimore Harborplace Hotel
202 East Pratt Street
Baltimore, Maryland 21202
Book your room today!
---
EXHIBIT AND SUPPORT DETAILS
Our meeting provides a wonderful opportunity for your organization and/or products to be exposed to leaders in neurorehabilitation, who are both clinicians, and researchers from all over North America and beyond. The meeting is exceptional for its scientific content, quality of the speakers, and integration between basic science and clinical practice. The meeting reflects the excellence of the ASNR's journal, Neurorehabilitation and Neural Repair, which has the highest impact factor among rehabilitation journals. The meeting features dedicated exhibitor space within the scientific sessions area and opportunities for product display and advertising in the meeting brochure.
The 2017 Sponsor and Exhibitor Prospectus is now available and will show you the many opportunities for sponsorship, as well as exhibition opportunities. The prospectus includes sponsorship and exhibit opportunities that ensure our supporters receive significant opportunities to connect with our attendees.
2017 Sponsors
2017 Exhibitors